Call Today 540-829-9922
1043 Oaklawn Dr.
Culpeper, VA 22701
Posts for: April, 2014
By All Smiles Dental Care
April 17, 2014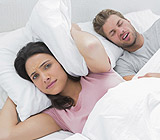 Your snoring isn't just an annoyance to other members of your household — it could indicate a serious health issue. Fortunately, there are treatments, some of which your dentist might be able to provide.
Snoring is the result of soft tissue structures in the back of the throat, including the tonsils, the uvula, the tongue or fat deposits, collapsing on each either and obstructing the flow of air into your lungs. The obstructions produce a vibration that is the source of the snoring.
These obstructions could lead to a serious condition known as Obstructive Sleep Apnea (OSA). As the name implies, the obstruction causes a complete cessation of airflow for several seconds. As oxygen levels drop, the body responds by waking for one to three seconds (known as "micro-arousals") to restore airflow. These disruptions can occur several times a night, as much as fifty times an hour. The depletion of oxygen and resulting low quality of sleep can contribute to high blood pressure, a higher risk of heart attack or stroke, and the possibility of accidents caused by lower alertness during the day.
You can help reduce the effect of OSA by losing weight and exercising. You may also be a candidate for Continuous Positive Airway Pressure (CPAP) therapy, which utilizes a device that delivers pressurized air into the airway while you sleep.
Depending on the exact cause and extent of your OSA, you might also benefit from treatments provided by your dentist. We can develop a custom-fitted oral appliance, similar to an orthodontic retainer or sports mouthguard, which you wear while you sleep. These devices work by repositioning the lower jaw forward, thereby maintaining an open airway by also moving the soft tissue of the tongue forward. For more advanced conditions, certain surgical procedures that realign the jaw or remove excess tissue, the tonsils and adenoids, or parts of the uvula or soft palate could be considered.
To know your best treatment course, you should schedule a complete oral examination to determine the exact cause of the obstruction, and possibly a polysomnogram, an overnight study performed in a sleep lab. And as your dentist, we might be able to provide the key for a better night's sleep and a healthier tomorrow.
If you would like more information on how we can address your problems with sleep apnea, please contact us or schedule an appointment for a consultation. You can also learn more about this topic by reading the Dear Doctor magazine article "Snoring & Sleep Apnea."
By All Smiles Dental Care
April 02, 2014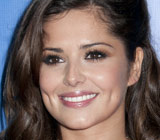 What if you had orthodontic treatments to enhance your smile — and nobody knew about it until it was all done?
That (almost) happened to British singer, cover girl and television personality Cheryl Cole. Since her big break in 2002, on the British reality show Popstars: The Rivals, Cole has had a successful music career, taken turns judging both the British and American versions of The X Factor, and graced the covers of fashion magazines like Elle and Harpers Bazaar.
And somewhere along the way, Cole wore an orthodontic appliance. It very nearly went undetected… until a colleague spilled the beans. That's when Cole was forced to divulge her secret: For a period of time, she had been wearing clear aligners on her teeth. Until her frenemy's revelation, only a few people knew — but when you compare the before-and-after pictures, the difference in her smile is clear.
So what exactly are clear aligners? Essentially, they consist of a series of thin plastic trays that are worn over the teeth for 22 hours each day. The trays are custom-made from a computerized model of an individual's mouth. Each tray is designed to move the teeth a small amount, and each is worn for two weeks before moving on to the next in the series. When the whole series is complete, the teeth will have shifted into their new (and better aligned) positions.
Besides being virtually unnoticeable, aligners are easy to remove. This makes it easy to keep the teeth clean — and can come in handy for important occasions (like cover-photo shoots and acceptance speeches). But don't remove them too frequently, or they won't work as planned. If that's a possibility (with teens, for example), aligners are available with "compliance indicators" to ensure they're being worn as often as they should be. They can also be made with special tabs to hold a place for teeth that haven't fully erupted (come in) yet — another feature that's handy for teens.
So if you need orthodontic work but prefer to stay "under the radar," ask us whether clear aligners could be right for you. Cheryl Cole did… and the results gave her something more to smile about.
If you would like more information on clear aligners, please contact us or schedule an appointment for a consultation. You can learn more about this topic in the Dear Doctor magazine articles "Clear Orthodontic Aligners" and "Clear Aligners for Teenagers."