Call Today 540-829-9922
1043 Oaklawn Dr.
Culpeper, VA 22701
Posts for: September, 2013
By All Smiles Dental Care
September 23, 2013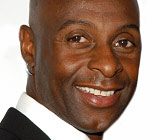 Athletic activity can boost your health, but many sports also carry some risk — especially to the teeth. This is something NFL wide receiver Jerry Rice well knows.
"Football can be brutal — injuries, including those to the face and mouth, are a common risk for any player," Rice noted in an interview with Dear Doctor magazine. In fact, Rice himself chipped a couple of teeth, which were repaired with crowns. "There wasn't a lot of focus on protecting your teeth in high school," Rice recalled.
You don't have to be a legend of the NFL to benefit from the type of high-quality mouthguard a dentist can make for you or your child. Consider that:
An athlete is 60 times more likely to suffer harm to the teeth when not wearing a mouthguard.
Mouthguards prevent an estimated 200,000 or more injuries each year.
Sports-related dental injuries account for more than 600,000 emergency room visits annually.
Each knocked-out tooth that is not properly preserved or replanted can cause lifetime dental costs of $10,000 to $20,000.
You and/or your child should wear a mouthguard if you participate in sports involving a ball, stick, puck, or physical contact with another player. Mouthguards should be used for practice as well as actual games.
It's also important to be aware that all mouthguards are not created equal. To get the highest level of protection and comfort, you'll want to have one custom-fitted and professionally made. This will involve a visit to our office so that we can make a precise model of your teeth that is used to create a custom guard. A properly fitted mouthguard is protective, comfortable, resilient, tear-resistant, odorless, tasteless and not bulky. It has excellent retention, fit, and sufficient thickness in critical areas.
If you are concerned about dental injuries or interested in learning more about mouthguards, please contact us today to schedule an appointment for a consultation. If you would like to read Dear Doctor's entire interview with Jerry Rice, please see "Jerry Rice." Dear Doctor also has more on "Athletic Mouthguards." and "An Introduction to Sports Injuries & Dentistry."
By All Smiles Dental Care
September 13, 2013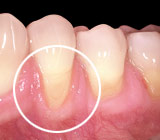 The "wear and tear" nature of gingival (gum) tissue enables it to readily handle the chewing and biting actions of eating and still perform its most important function: protecting the roots of your teeth from decay and environmental exposure. But while they're resilient, they're not invincible: it's quite possible for them to lose their attachment to a tooth and begin to recede, leaving the root surfaces exposed.
Gum recession can occur for a number of reasons: poor oral hygiene; over brushing and flossing; malocclusion (a poor bite); personal habits, like biting down on hard foreign objects; or poorly fitted dentures or other appliances. From a genetic point of view, people with thinner gingival tissues are more prone to gum recession than those with thicker tissues. Whatever the cause, the result is the same — the exposed tooth becomes more sensitive to environmental factors (such as heat, cold, abrasion or erosion). More importantly, it now has a higher susceptibility to decay and disease, leading to its possible demise.
But there may be a solution. Although the original tissue may be lost, periodontal plastic surgery can restore a protective layer of tissue to the tooth, and at the same time give you back the smile you once had.
From the Greek word "plastik" for sculpting or modeling clay, plastic surgery procedures restore both form and function to a bodily structure. While the term "plastic surgery" can apply to other procedures in medicine such as rhinoplasty or face lifts, the periodontal procedure particularly involves grafting similar tissue to an area of recession, and then "shaping" it into a natural, life-like form.
To graft means to remove tissue from a donor site and attach it to a recipient site. In the case of periodontal tissue, the recipient patient can also be the donor with the tissue coming from some other area of the same mouth (the graft can also come from another human or an animal). Using advanced techniques and a touch of artistry, the surgeon positions and sutures the graft in place.
The result: not only a new protective covering for your tooth, but a more pleasing appearance when you smile.
If you would like more information on periodontal plastic surgery, please contact us or schedule an appointment for a consultation. You can also learn more about this topic by reading the Dear Doctor magazine article "Periodontal Plastic Surgery."