Call Today 540-829-9922
1043 Oaklawn Dr.
Culpeper, VA 22701
Posts for: August, 2013
By All Smiles Dental Care
August 29, 2013
One day, while looking at old pictures of himself, 34-year-old American Idol finalist Elliott Yamin noticed something peculiar. "I [had] figured out how to kind of smile without displaying all my teeth," he told an interviewer with People magazine. The reason: Yamin (like many other people) was unhappy with the way his teeth looked. And others noticed it too: "[They] wrote things in magazines, called me Snaggletooth and things like that," he said.
Yamin's situation came to the attention of dentists from across the country, several of whom offered to fix his crossbite and other problems. One of them even provided the singer with computer-generated renderings of how he'd look after a total "smile makeover" — and that was enough to convince him. Finally, after receiving a set of porcelain veneers and other dental work — all provided free of charge by the concerned dentist — Yamin has the smile he always dreamed of.
You don't have to be an American Idol finalist to appreciate the benefit of having a super smile — and it's never too late to get started! As Yamin found out, a "smile analysis" is the first step, and it's a critical part of the process. This is the time when you and your dentist get to know each other, and begin talking about what kind of a look you want to achieve, and what you should realistically expect.
But it can be tough to express in words exactly what your idea of a perfect smile looks like. Are the teeth completely regular in alignment and "Hollywood white?" A little bit asymmetrical and more natural-looking — or something in between? And exactly how would that look on you? Fortunately, we have a variety of ways to help you make those decisions.
One is computer-generated images, like the ones that persuaded Yamin. Convenient and relatively easy to produce, they're a great way to preview possible changes before a single tooth is touched. However, some people may find it hard to picture their new smile from different angles and in different lights. If you'd like a better representation, it's possible to produce a 3-D model of the proposed work before it's done. This can let you truly visualize your new smile in a realistic way.
If you need even more evidence before deciding, there's still more that can be done. Your teeth can be built up to their new contours with composite resin, a tooth-colored restoration material that can change tooth shape and size with relative ease. A related procedure, the "provisional restoration," gives you a complete preview of the final work. When you're satisfied, the "temporary" materials are replaced with more permanent ones, like long-lasting porcelain veneers. Whichever method you choose, you'll be on your way to a better looking smile.
If you would like more information about a smile makeover, please contact us or schedule an appointment for a consultation. You can also learn more by reading the Dear Doctor magazine articles "Great Expectations — Perceptions in Smile Design" and "Smile Design Enhanced with Porcelain Veneers."
By All Smiles Dental Care
August 14, 2013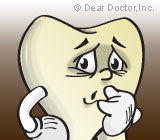 If a glance in the mirror reveals stained or discolored teeth that are detracting from your self-confidence, it's time to do something about it. The first step is to make an appointment for an office visit to find out how we can help you.
External (extrinsic) stains that form on the surfaces of teeth are usually caused by beverages such as red wine, tea, coffee as well as unhealthy habits like tobacco use. Extrinsic stains generally come in shades of browns, black or grays, but may even be orange or green from color producing bacteria.
Internal (intrinsic) stains are part of the structure of the tooth and cannot be removed by polishing. Among their causes are excessive fluoride levels or tetracycline antibiotics given in childhood and during tooth formation. Teeth do become more yellow and discolored as we age. Discoloration of individual teeth may be indicative of tooth decay, or teeth that have had root canal treatment and have literally lost their vitality tend to darken over time. Internal discoloration comes in a variety of shades and hues from yellows, grays, browns, and even some reds or pink.
Five Ways to lighten, whiten and brighten stained or discolored teeth
Change your habits. Reduce or stop consuming or using foods, drinks or tobacco if they are staining your teeth.
Improve your daily oral hygiene. Make sure to brush your teeth well, twice a day. Change to a toothpaste that contains a mild abrasive. Some toothpastes also contain tooth whiteners.
Visit our office for a professional cleaning and polish. Routine scaling and polishing will remove most superficial external stain and discoloration. Sometimes ultrasonic cleaning (by high frequency vibration) and polishing with slightly abrasive pastes may just do the trick.
Treatment for internal stain and discoloration. Brown colored decaying teeth need to have the decay removed and the teeth restored. Stained old and leaking fillings may also need to be replaced.
Tooth whitening by bleaching. Bleaching or tooth whitening is a safe and effective way to brighten stained teeth. Internal tooth bleaching can whiten even discolored root canal treated teeth. Ask us for more information about this technique.
If your mirror tells you that your smile needs attention, there's no time like the present to get started. Get back your bright, white smile and your self-confidence as well.
Contact us today to schedule an appointment to discuss your questions about tooth staining and its treatments. You can also learn more by reading the Dear Doctor magazine article "Tooth Staining."