Call Today 540-829-9922
1043 Oaklawn Dr.
Culpeper, VA 22701
Posts for: July, 2013
By All Smiles Dental Care
July 23, 2013
Singer LeAnn Rimes was forced to cancel a string of performances recently, as a more pressing engagement came up: a late-night meeting with her endodontist. It turned out that the country-pop star needed some emergency dental work performed while she was on tour. But her die-hard fans needn't have felt left out — Rimes faithfully tweeted each stage of her dental treatment.
The trouble began before she was scheduled to play a show in Ohio. "Waiting on the endodontist to meet me and do a nighttime root canal," she informed her twitter followers. Instead of performing, Rimes was advised to spend the next few days resting after the emergency treatment. "Happy Friday! I'll be spending mine in bed," she tweeted after the previous evening's procedure. The following Monday, Rimes returned to the dentist's chair for follow-up treatment.
It turned out that the singer had been battling dental pain for months. "I am so disappointed that I can't make it to my fans tonight." Rimes explained in a statement. "I had wanted to give them the show they deserved and only wish this tooth pain held out a little longer."
If there's a moral to this story, it's this: If you have tooth pain, don't wait to see a dentist. Call us right away!
A feeling of constant pain and pressure in your mouth is a clear indication that you may need a root canal. Another telltale symptom is sharp pain when you bite down on food, or lingering pain after eating something hot or cold. Not every symptom is as clear-cut, however — the only way to know for sure whether you need treatment is to come in for an evaluation.
Pain in your teeth or gums may be a symptom of a serious condition. Even if the pain goes away temporarily, an underlying infection generally does not. If a treatment such as root canal therapy is needed, the sooner it is obtained, the better you'll feel. And remember, root canal treatment doesn't cause tooth pain — it relieves it!
If you have any concerns about tooth pain, please contact us or schedule an appointment for a consultation. You can learn more in the Dear Doctor magazine articles "I'd Rather Have a Root Canal" and "Signs and Symptoms of a Future Root Canal."
By All Smiles Dental Care
July 08, 2013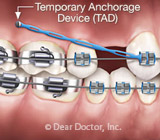 Technology for orthodontic treatments has evolved tremendously over the years. There are now more options than ever before for those seeking to straighten their teeth or fix bite issues. One of those revolutionary options is TADS (Temporary Anchorage Devices), mini-screws that can be used to more accurately control the movement and positioning of your teeth.
So, how do TADS work? Well, these very small screws are temporarily placed into the bone of the jaws to be used as non-mobile anchor units to facilitate tooth movement. They can be removed once the desired movement is complete. In addition, they can be placed using simple local anesthesia (numbing shots in the area).
The procedure is actually quite simple. After numbing the area where the TAD is to be placed, we will use gentle pressure to insert it through the gums and into the bone of your jaws. You may feel some slight pressure during the insertion, but no pain. Following the procedure, you may also feel a bit of pressure and sensitivity for one to two days, but many people experience no side effects at all. As the name suggests, TADS are temporary and usually removed after a few months, though length of time varies. Again, removing TADS also involves a quick and painless procedure.
TADS have been around for a long time, but recent refinements in the design and application procedure have allowed for more widespread use in the orthodontic office. TADS can be used for many different reasons, including eliminating the need for cumbersome appliances, such as headgear. They also offer a great way to reduce orthodontic treatment time. Finally, they allow certain cases to be treated that were nearly impossible before this technique was refined.
If you would like more information about TADs, please contact us or schedule an appointment for a consultation. You can also learn more by reading the Dear Doctor magazine article "What are TADs?"