Call Today 540-829-9922
1043 Oaklawn Dr.
Culpeper, VA 22701
Posts for: April, 2013
By All Smiles Dental Care
April 20, 2013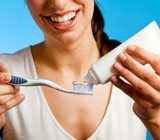 You use toothpaste every day — don't you? But how much do you really know about what's inside the tube: namely, the white, sticky stuff that keeps your teeth clean and your breath fresh? Take this True/False quiz and find out!
True of false: Powdered charcoal, brick dust and crushed bones were once ingredients in toothpaste. TRUE
Many years ago, these gritty abrasive materials were used to make toothpaste. Today, abrasives are still used — but they're much gentler. Compounds like hydrated silica or alumina, calcium carbonate, and dicalcium phosphate have proven effective at cleaning and polishing tooth surfaces without damaging the enamel.
True of false: Fluoride was first introduced into toothpaste in 1955. FALSE
Arguably toothpaste's most important ingredient, fluoride was used as early as 1914. But its mass-marketing debut came with the Crest brand in the mid-1950s. Today, no toothpaste without fluoride can receive the American Dental Association's Seal of Approval. That's because it has been shown to strengthen tooth enamel and help prevent tooth decay.
True of false: Detergent is a common ingredient of toothpaste. TRUE
But it isn't the same kind you do laundry with. Detergents — also called surfactants, because they act on the surfaces of liquids — help to loosen and break down deposits on your teeth, which can then be rinsed away. Like other health and beauty products, many toothpastes use a gentle detergent, derived from coconut or palm kernel oil, called sodium lauryl sulfate.
True of false: Whitening toothpastes work, to some degree, on all stains. FALSE
Whether the whitening agents in toothpaste will work for you depends on why your teeth don't look white in the first place. The abrasives and enzymes in these toothpastes can help remove "extrinsic" stains: those on the surface of your teeth. But for "intrinsic" stains — that is, internal discoloration — they probably won't help. In that case, you may need to get professional bleaching treatments.
True of false: Toothpastes made for sensitive teeth have substances that block pain transmission. TRUE
Potassium nitrate and strontium chloride can block the sensation of pain that may occur when dentin — the material that makes up most of the inside of teeth, and is normally covered by enamel — becomes exposed. Fluoride, too, helps reduce sensitivity. But the benefits of reduced tooth sensitivity may take a few weeks to really be felt.
If you have questions about toothpastes or oral hygiene, please contact us or schedule an appointment for a consultation. You can learn more in the Dear Doctor magazine article "Toothpaste — What's In It?"
By All Smiles Dental Care
April 05, 2013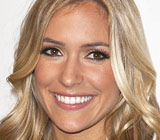 While she was pregnant with her son Camden Jack Cutler, 25-year-old Kristin Cavallari noticed an odd occurrence in her bathroom sink: "Every time I floss, my sink looks like I murdered somebody!" the actress and reality-TV personality exclaimed. Should we be concerned that something wicked is going on with the star of Laguna Beach and The Hills?
Before you call in the authorities, ask a periodontist: He or she will tell you that there's actually no mystery here. What Cavallari noticed is, in fact, a fairly common symptom of "pregnancy gingivitis," a condition that affects many expectant moms in the second to eighth month of pregnancy. But why does it occur at this time?
First — just the facts: You may already know that gingivitis is the medical name for an early stage of gum disease. Its symptoms may include bad breath, bleeding gums, and soreness, redness, or tenderness of the gum tissue. Fundamentally, gum disease is caused by the buildup of harmful bacteria, or plaque, on the teeth at the gum line — but it's important to remember that, while hundreds of types of bacteria live in the mouth, only a few are harmful. A change in the environment inside the mouth — like inadequate oral hygiene, to use one example — can cause the harmful types to flourish.
But in this case, the culprit isn't necessarily poor hygiene — instead, blame it on the natural hormonal changes that take place in expectant moms. As levels of some female hormones (estrogen and/or progesterone) rise during pregnancy, changes occur in the blood vessels in the gums, which cause them to be more susceptible to the effects of bacterial toxins. The bacteria produce toxic chemicals, which in turn bring on the symptoms of gingivitis — including painful and inflamed gums that may bleed heavily when flossed.
Is pregnancy gingivits a cause for concern? Perhaps — but the condition is generally quite treatable. If you've noticed symptoms like Kristen's, the first thing you should do it consult our office. We can advise you on a variety of treatments designed to relieve the inflammation in your gums and prevent the harmful bacteria from proliferating. Of course, your oral health (and your overall health) are prime concerns during pregnancy — so don't hesitate to seek medical help if it's needed!
How did things work out with Kristen? She maintained an effective oral hygiene routine, delivered a healthy baby — and recently appeared on the cover of Dear Doctor magazine, as the winner of the "Best Celebrity Smile" contest for 2012. And looking at her smile, it's no mystery why she won.
If you would like more information about pregnancy gingivitis, please contact us or schedule an appointment for a consultation. You can also learn more by reading the Dear Doctor magazine articles "Expectant Mothers" and "Kristen Cavallari."