Call Today 540-829-9922
1043 Oaklawn Dr.
Culpeper, VA 22701
Posts for: January, 2013
By All Smiles Dental Care
January 15, 2013
Florence Henderson, star of one of television's most beloved situation comedies, is still actively engaged in a variety of projects at 75-plus years of age. Her bright smile was part of her character as Carol Brady in The Brady Bunch, a popular sitcom that played for five seasons from 1969 to 1974. Though the show was discontinued, syndicated episodes continue to play in the U.S. and 122 other countries.
"I played Carol as the mother I always wished I had," she told Dear Doctor magazine. Her portrayal of mother and wife in a blended family with six children won her the Smithsonian Institution's TV Land Pop Culture Icon Award, which is on display in the National Museum of American History in Washington, DC.
After her successes on Broadway and in television, she was selected for numerous product endorsements, and The Wall Street Journal ranked her #5 in their top ten television endorsers based on viewer satisfaction. One of the products she endorsed was Polident, a brand of denture cleaners and adhesives. However, Henderson has revealed that she has her own natural teeth and does not wear dentures. Her advice to others who want to keep their natural teeth is to pay attention to prevention. "I think the most important thing one can do as with any health issue is prevention," she said. "Flossing, brushing, and regular dental checkups are vitally important if you want to keep your natural teeth."
When she was 22, she says, she had four impacted wisdom teeth removed at the same time. This experience made her aware of the importance of dental care, and since then she has had a checkup every six months. Wherever she travels, she says that she always has mouthwash, dental floss, toothpaste, and a toothbrush on the set.
Contact us today to schedule an appointment to discuss your questions about tooth care. You can learn more about Florence Henderson by reading the Dear Doctor magazine interview "Florence Henderson, America's Favorite TV Mom Has Many Reasons to Smile."
By All Smiles Dental Care
January 05, 2013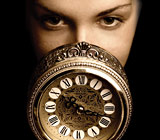 As the Baby Boomer generation moves into its 60s, more and more of us are concerned with looking younger. We do it with vitamins, diet, exercise, makeup, cosmetic surgery, and yes, even with cosmetic dentistry.
In recent years we have learned a lot about how aging affects the soft tissues and bones of your face. This has led to an approach to orthodontics that considers not only the teeth and jaws, but also the continuing growth of the bones and soft tissues of the face.
We used to think that growth stopped when people reached their late teens or early 20s. However, recent studies have shown that some kinds of growth continue throughout a person's lifetime. Your bones and facial structures change as much between the ages of 25 and 42 as they do between 18 and 25.
As you age your facial profile flattens, your nose becomes more prominent, the lower part of your face becomes shorter, and your lips become thinner. By studying these changes we have learned to consider them when planning orthodontic treatment. Modern orthodontics treats the entire face, not just the teeth.
The science of orthodontics is dedicated to slowly moving the teeth within the jaws to better functional and aesthetic positions, using standard braces or clear aligners. Sometimes the upper and lower jaws are so far out of alignment that more extreme treatment is needed. In such cases orthognathic (from ortho, meaning straight and gnathos, meaning jaw) surgery may be required to achieve the best results. Orthognathic surgery was once considered a drastic procedure, but it has become easier to manage during and following surgery and is now considered a more normal treatment option, like a facelift. Since the nose becomes more prominent as part of the aging process, the surgery is sometimes combined with rhinoplasty, or reshaping of the nose.
This new approach to orthodontics and cosmetic dentistry — taking into consideration the normal changes that occur as a person's face ages throughout life — requires teamwork among a general dentist, an orthodontist, and an oral surgeon. The results are a long-lasting change that holds back the clock on aging.
Contact us today to schedule an appointment to discuss your questions about cosmetic dentistry. You can also learn more by reading the Dear Doctor magazine article "Understanding Aging Makes Beauty Timeless."